Types of Vinyl Flooring
When it comes to purchasing new flooring, there is a lot to consider. Time constraints, budgets, and the needs of your home all play a role in determining what kind of flooring you should get. Luxury vinyl flooring is one of the fastest growing flooring categories in the flooring market. Luxury vinyl comes in different options, meaning you can find a floor that suits your home. Although all luxury vinyl is vinyl, not all vinyl is considered luxury vinyl. Tudor Floors & More Carpet One is your local retailer when it comes to flooring and we can help you find the right floor for your home.
Sheet Vinyl
Homeowners tend to associate sheet vinyl with outdated flooring. Technology continues to advance, meaning sheet vinyl has been advancing as well in terms of style and construction. Sheet vinyl comes in 12-foot-rolls giving you a seamless look to your space. Looks that are inspired by nature continue to be trendy. Looks like hardwood and stone are two of the most popular options. Sheet vinyl is also very easy to clean and maintain.
Sheet vinyl can be installed almost anywhere in your home. Some sheet vinyl is realistic looking enough where at first glance your guests won't notice the difference. Places like your kitchen, bathroom, and even basement are common to install sheet vinyl.
WPC Flooring
WPC stands for wood plastic composite flooring. Most homeowners call WPC waterproof core flooring, which is also suiting because WPC is a completely waterproof flooring product. These specialty luxury vinyl floors are great for your entire home. Traditional hardwood looks are combined with the durability and resiliency of WPC, and the best part is these floors do not need to be refinished. Many WPC products will be considered luxury vinyl tiles or luxury vinyl planks, but not all luxury vinyl is WPC.
Rigid Core Flooring
Rigid core flooring features realistic visuals and they also provide protection from dents, water, stains, and scratches. These floors feature the ultimate durability and design making them the toughest and most beautiful luxury vinyl floors. They are also on trend with the latest styles like rustic, reclaimed, and brushed wood looks. These hybrid floors bring you the best of both such as being 100% waterproof, scratch and stain resistant, comfortable and quiet, and beautiful enough to install all throughout your home.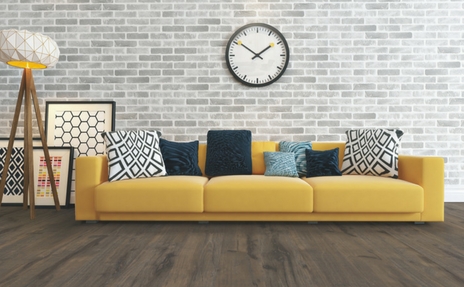 We're Your Local Experts
Tudor Floors & More Carpet One
We at Tudor Floors & More Carpet One are proud to be your local experts. Check out our testimonials below to see how we've helped customers choose the best carpet for their homes.
"Great job Tudor flooring. You stood behind a product you sold when the manufacturer refused to. Companies like yours are very rare these days. Thank you very much." - Ray Weems
"Tudor is the only place we'll go for flooring. The staff is so knowledgeable and we're always able to find exactly what we are looking for. Their installers do an amazing job!" - Jane Duda
To see what other customers say about us, check out our Testimonials page.